Great Spotted Cuckoo
On March 26th 1994 Herman Grooters saw a Great Spotted Cuckoo Clamator glandarius at the western shore of the Zuidlaarder Meer (Groningen). Next day he could not find the bird and believed it had disappeared. On March 28th however, it was found again by Aaldrik Molema. He warned other birders, so everybody had good opportunities to see this bird. It stayed in the area till at least April 16th. On March 30th it (believed to be a first-summer) was even heard singing. I saw it too on March 30th! (cf Dutch Birding 16: 80-81 and 88, 1994).
---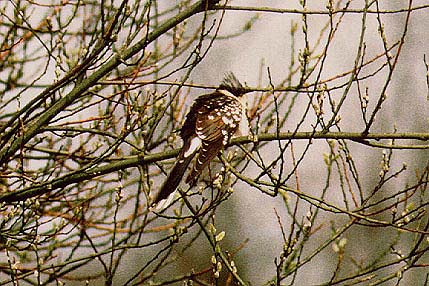 (This photograph is taken by © Arnoud van den Berg from Santpoort-Zuid)
---
This was the 11th record for the Netherlands. Previous records were: 1939, 1940, 1948, 1968, 1970, 1976, 1980, 1982 (2), 1983, 1990, 1991 and two later in 1995.

Do you want to go to the main-index, the 1994-index or the next species, the Rock Thrush?