1996
1996 was definitely the best year ever in Twitching History! The summer was excellent with a lot of waders (and claims of waders!) and autumn revealed some birds we never ever expected to see! In one year both the Isabelline species, both the Blyth's species and two Nearctic passerines! And at the end of the year, I had my 400th species in the Netherlands!
---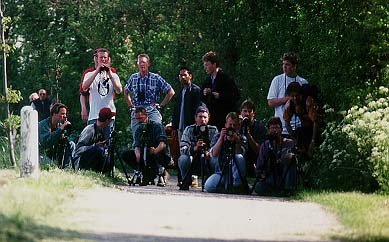 Aagtekerke, June 2nd 1996 at the Eastern Black-eared Wheatear (picture by © Rudi Offereins from Assen Dr).
---
Black-throated Thrush
Black-headed Bunting
Eastern Black-eared Wheatear
Blyth's Reed Warbler
Red-eyed Vireo
Radde's Warbler
Myrtle Warbler
Isabelline Wheatear
Blyth's Pipit
Daurian Shrike
---
Do you like to go to the main index or to the next year 1997?