Marbled Duck
On Saturday August 14th 2004 Rik Winters was lamenting about the good old days when he went birding in the Lauwersmeer, the extreme north of the Netherlands and why he could ever left his nearby home at Groningen. After moving to Ede, Gelderland, he found himself often in the river area east of Arnhem, Gelderland, the east-central part of the Netherlands. Around 14:15 hours near Pannerden (another small village) he suddenly discovered a duck, quickly identified as a Marbled Duck Marmaronetta angustirostris. He remembered some records in the Netherlands, all considered to be escapes. However, he decided to warn other birders and in the meantime, he noticed the bird was very shy, the wings were undamaged and the legs seemed wearing no rings at all. Around 16:15 hours, after the first birders had arrived, the bird suddenly flew away across the river into a small pond on the eastern shore of the river. There it stayed untill August 16th.
---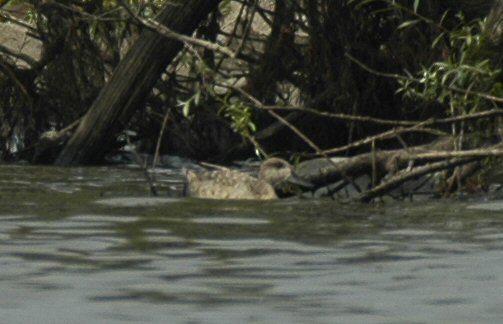 (This picture is taken by © myself, Jan van der Laan from Alkmaar, Noord-Holland)
---
Previous records of Marbled Duck had been rejected, They showed signs of being escapes or where not documented into detail. However, this record was finally accepted as a wild bird (cf Dutch Birding 26 (5): 357-358, 2004 and Dutch Birding 29 (3): 147-152, 2007).

Do you want to go to the main-index, the 2004-index or the next new species, the White's Thrush?