Caspian Plover - Charadrius asiaticus
On Saturday 17 October 2009 Mart Janse discovered a Caspian Plover Charadrius asiaticus between Golden Plovers Pluvialis apricarius and an American Golden Plover P dominicus in a field on the southern part of the Isle of Texel NH. He warned birders living on Texel and the news was spread immediately. The next day the whole twitching scene was present on the place at 9.00 hours, but the bird was not on the original spot anymore. After a long hour it was found again ca 2 kilometers to the southeast and could be see the following days by everyone who could make the trip.
The bird proved to be a first-winter and gave good, albeit distant, views and sometimes flew some distances, but always returned in the same general area. At the same spot, the American Golden Plover was present too and it could be seen together from time to time with the Caspian Plover in one scope view!
---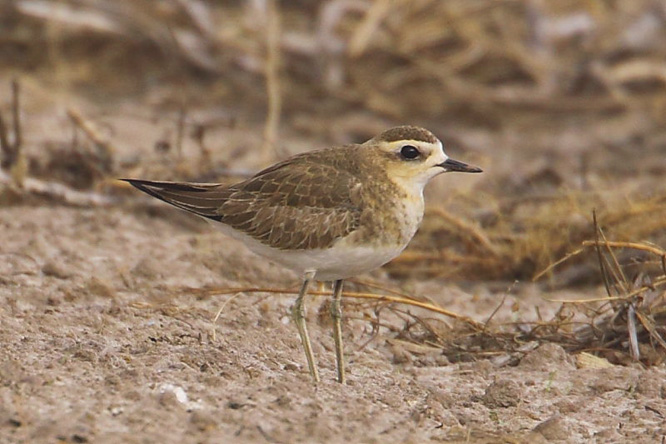 18 october 2009, Den Hoorn, Texel; &copy Eric Menkveld.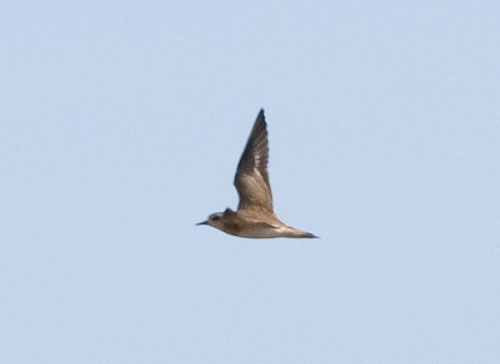 18 October 2009, 't Horntje, Texel; &copy Toy Janssen.
From YouTube, 20 October 2009, 't Horntje, Texel NH; &copy Borwin1981 (Alwin van Borhem).
Note the American Golden Plover in the foreground.
---
It was accepted as the first record for the Netherlands. Caspian Plover is a rare vagrant in Western Europa, eg Britain has 5 records, involving 6 birds (22 May 1890, North Denes, Great Yarmouth, Norfolk, England, pair, male collected, 21 May 1988, St Agnes, Scilly, England, male, 12-13 July 1988, Aberlady Bay, Lothian, Scotland, male, 3-4 June 1996, Skelberry, Shetland, Scotland, female, and 1-2 May 2008, Fair Isle, Shetland, Scotland, female - many thanks to Hans ter Haar). Norway has two records: mid June 1978 at Ekker÷y, near Vads÷ and 20 June 2005 at Vard°, Finland one: 3 June near Rovaniemi 2005..
Finally, many thanks to Mart Janse. For him it was his second discovery of a new species for the Netherlands, the first was the Stilt Sandpiper in 1998, so he is much on schedule to become a legend!

Go to the main-index, the 2009-index or the Long-toed Stint?