This is a twitchers-only homepage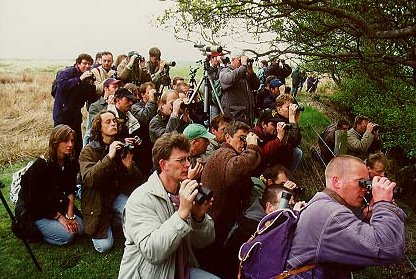 (This photograph is taken on May 27th 1996 on Ameland by Rudi Offereins from Assen)
---
On this site I will give you an overview of my new species of birds observed in the Netherlands from January 1st 1990. Birding (or better: twitching, the chase for rare birds) in the Netherlands is rapidly growing, with an increasing number of young birders, resulting in the finding of more and rarer birds. The following table below shows the years, each year linked with a list of birds, representing a link towards a photograph of the particular bird and the story behind it. It started as an exercise of an HTML-course I took in 1995, so the lay-out is very 90s-like. Anyhow I can pretend this is the oldest weblog about birds in the Netherlands.
---
1990
Ivory Gull, Red-throated Pipit, Storm Petrel, Rustic Bunting and Dusky Warbler.

1991
Pacific Golden Plover, Great Knot, Sandhill Crane and Lesser Yellowlegs.

1992
Falcated Duck, Balearic Shearwater and Ross's Gull.

1993
Griffon Vulture, Citrine Wagtail, Sardinian Warbler, Red-spotted Bluethroat (subsp.) and Buff-breasted Sandpiper.

1994
Great Spotted Cuckoo, Rock Thrush, White-rumped Sandpiper, House Crow, Steppe Grey Shrike, Paddyfield Warbler,Pine Bunting and Lesser Scaup.

1995
Greater Yellowlegs, Daurian Jackdaw, Red-headed Bunting, Booted Eagle, Bonelli's Eagle, Upland Sandpiper and Dartford Warbler.

1996
Black-throated Thrush, Black-headed Bunting, Eastern Black-eared Wheatear, Blyth's Reed Warbler, Red-eyed Vireo, Radde's Warbler, Myrtle Warbler, Isabelline Wheatear, Blyth's Pipit and Daurian Shrike.

1997
Lesser Canada Goose, Pied-billed Grebe, Spanish Sparrow, Semipalmated Sandpiper, Oriental Pratincole, Laughing Gull, Arctic Warbler, Greenland White-fronted Goose (subsp.) and Pontic Gull.
1998
White-tailed Plover, Gyr Falcon (white morph), Black-shouldered Kite, Green-winged Teal, Eurasian Scops Owl and Stilt Sandpiper.

1999
Pygmy Cormorant.

2000
Cinereous or Black Vulture, Long-legged Buzzard and Turkestan Shrike.

2001
Egyptian Vulture and Iberian Chiffchaff.

2002
Alpine Swift.
2003
Atlas Finch, Trumpeter Finch, Blue Rock-Thrush, Eastern Black Redstart (subsp.) and Western Orphean Warbler.
2004
White-throated Wagtail, Marbled Duck, White's Thrush, Western Subalpine Warbler, Western Black-eared Wheatear, Bufflehead and Pine Grosbeak.
2005
Killdeer, Purple-backed or Daurian Starling and Hawk Owl.
2006
Green Heron, Slender-billed Gull, Solitary Sandpiper, Baltic Gull (subsp.), Baikal Teal and Crag Martin.
2007
Central Asian Lesser Whitethroat, Eastern Crowned Warbler and Hooded Merganser.
2008
Eurasian Pygmy Owl.
2009
Caspian Plover, Long-toed Stint.
2010
Baltimore Oriole, Oriental Turtle-Dove, Blue-cheeked Bee-eater, Northern Waterthrush.
2011
Spotted Sandpiper, Long-tailed Shrike.
2012
Thick-billed Murre, Caspian Stonechat (subsp.).
2013
Cretzschmar's Bunting, Rufous-tailed Scrub Robin, Pallid Swift, Two-barred Warbler, Siberian Lesser Whitethroat (subsp.).
2014
Brown Shrike, American Robin, African Desert Warbler.
2015
Dark-eyed Junco, Thayer's Gull.
2016
Siberian Rubythroat, Redhead, Moustached Warbler, Lanceolated Warbler, Siberian Accentor.
2017
Atlas Wheatear, Eastern Imperial Eagle.
2018
Cirl Bunting, Black-headed Wagtail.
2019
Calandra Lark, Grey-headed Lapwing, Western Sandpiper, Upcher's Warbler, Dusky Thrush, White-throated Sparrow, Little Whimbrel.
2020
Green Warbler, Oriental Plover, Blackpoll Warbler.
2021
Marmora's Warbler, Little Swift, Lesser Spotted Eagle, American or Black Scoter, Olivaceous Warbler, Western Swamphen.
2022
Song Sparrow, Yellow-browed Bunting.
2023
Buff-bellied Pipit.
Several of my birding trips between 1981 and 2023.
Other bird sites.
---
(under construction and in Dutch). All my new species in the Netherlands since January 1977; Every decennium has a different colour. e.g. the seventies are grey.
---
I would welcome suggestions, remarks or even insults!

My address is:

Jan van der Laan
Roemer Visscherstraat 5
1814 EL Alkmaar
The Netherlands

(last update 23 October 2022)