1994
In 1994 I saw eight new species, a very good result, since there wasn't a single species to be missed for me (except for non-twitchable Alpine Swifts and a fly-by Lesser Spotted Eagle). In the Netherlands we count House Crow as an A-Category Species and the Steppe Grey Shrike was given full species status as well. A Baikal Teal (Anas formosa) in Limburg was rejected, because the bird showed suspect behaviour for a wild bird.
---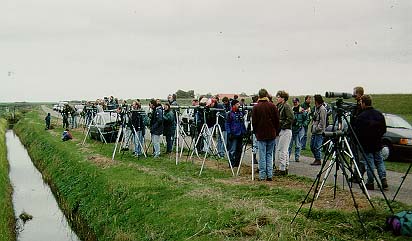 Texel, October 16th 1994; looking at an American Golden Plover (picture by © Leo Boon from Haarlem NH).
---
Great Spotted Cuckoo
Rock Thrush
White-rumped Sandpiper
House Crow
Steppe Grey Shrike
Paddyfield Warbler
Pine Bunting
Lesser Scaup
---
Do you like to go to the main index or to the next year 1995?