Laughing Gull - Larus atricilla
On Friday August 22nd Martin Olthoff from Groningen had to feed his sister's cats. While returning home (in the city of Groningen), at the Oude Winschoterdiep he suddenly saw a gull which he immediately recognised as a Laughing Gull Larus atricilla. He warned other birders, but the bird turned out to be very elusive. Then the bird was relocated 1 kilometre to the east on the parking lot of IKEA (the big store from Sweden, where all families go to in the weekends to buy furniture). The bird was feeding on left-overs from the nearby MacDonald's and it stayed overnight on a the parking lot. The following days it was either seen at the original spot or the IKEA parking lot.
Moral of the story: always keep your eyes open, even if you have to feed your sister's cats!
---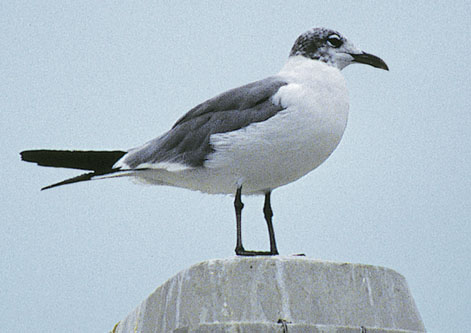 August 1997, Groningen Gr; © René Pop.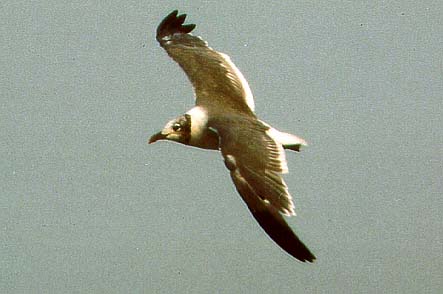 August 1997, Groningen Gr; © Eric Koops.
---
The bird stayed into at least into October. It was accepted record as the first record for the Netherlands (cf Dutch Birding 19 (4): 203, 205 and 212-213, 1997). Two earlier records were rejected: one in September 1993 at Harderwijk (Gelderland), which was rejected despite several photographs. The second was at Katwijk aan Zee (Zuid-Holland) on May 5th 1995. The last one was seen by several experienced birders, including Martin Olthoff. It was rejected with only two votes against it, being the minimum number of votes for rejection! So Martin had his revenge anyhow! After careful review, the first record at Harderwijk was accepted as the first for the Netherlands.

Do you want to go to the main-index, to the 1997-index or the next species, the Arctic Warbler?