1997
1997 had a slow start after the amazing year 1996, but on March 9th I had my first new species, A Hutchins's Canada Goose (after the rejection of the 1994 bird), followed on 20th April by the Pied-billed Grebe and on May 5th the third, the Spanish Sparrow! Also (but not likely the fourth). Another good new species was a Semipalmated Sandpiper, a species I missed in 1989 and 1996. In August two other new birds arrived, Oriental Pratincole and Laughing Gull! Then September and October were quiet but windy, with only one new bird, Arctic Warbler. November had a small upsurge, resulting in two new species for me, Pontic Gull and Whistling Swan and a new subspecies, Greenland White-fronted Goose.
---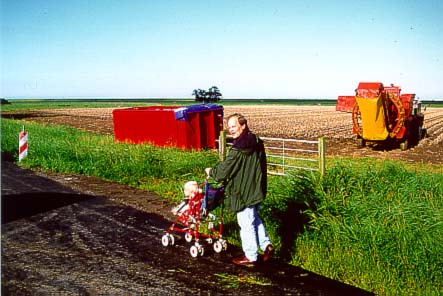 Gerard Steinhaus, for years the number-one twitcher in the Netherlands on his way to the Oriental Pratincole; © Jan van der Laan.
---
Hutchins's Canada Goose
Pied-billed Grebe
Spanish Sparrow
Semipalmated Sandpiper
Oriental Pratincole
Laughing Gull
Arctic Warbler
Greenland White-fronted Goose
Pontic Gull
Whistling Swan
---
Do you like to go to the main index or to the next year 1998?